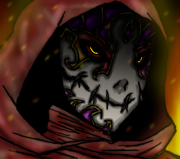 Captain Stygal, as he is known by the crew of The Erimtha (his ship), stands at an even six feet tall. Though everyone swears he's never been in military service of any sort, he commands quite a presence with how he carries himself like an officer. It's difficult to see what kind of person really lies beneath the robes and mask, just like any of the other crew. His low and deep but clear voice backs up the presence of the mask he is behind. 
The Erimtha
Edit
The Erimtha is Caslin's own ship. It's an centuries-old wreck of a ship that was exhumed from it's earthly grave, repaired with patchwork, and reoutfitted with proper equipment to make it on par with the airships of today. It's old, but tough as nails, and Caslin swears he can fly it through even the harshest storms. There were certain additions, to the inner workings as well as changes to the outside of the ship, to allow for ease of use through many types of inclement weather.
As the captain, he of course has his own quarters. There's nothing ornate about it, strangely enough. Simply a desk, a chest, and a bed. He believes he simply hasn't done enough exploring or adventuring within Aurora to justify decorating the room with anything. Without any memorabilia of the other worlds, this is impossible anyway.
Veyati Cresna, the cartographer, also has her own quarters where she can work in peace and silence if she so desires. Her desk is occasionally cluttered with sketches of things she has witnessed in the rest of Aurora, ranging from chronicled memories captured in a still frame, sketches of interesting people she has seen (of which she believes there will be many), and the beautiful scenery of Aurora.
Caslin had spared no expense for his crew, as the crew's quarters are as comfortable as the others. The only real difference is in the openness-- they aren't separated rooms like Veyati's or Caslin's room.