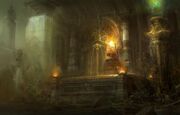 The Blade Crypt is the largest gravesite in Aurora, situated beneath the endless cityscape of the
Bulwark Sphere
. The Blade Crypt is a tomb dedicated to countless military lives lost in history, both from the
Bulwark Empire's
own troops and those of heroes honored in other societies and nations. The tomb extends across the entirety of Bulwark's subterranean surface, holding countless buried dead.
Ad blocker interference detected!
Wikia is a free-to-use site that makes money from advertising. We have a modified experience for viewers using ad blockers

Wikia is not accessible if you've made further modifications. Remove the custom ad blocker rule(s) and the page will load as expected.